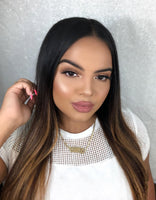 Founder Amber Helena
Beauty Beyond Boundaries
Helena Beauty's philosophy is based upon my goal to inspire everyone to be authentic and unapologetic about who they are. I want people to love the skin they are in.
It's so easy to forget to love ourselves for who we are in a society that constantly points out our flaws and tells us who we should be. I hope that my brand reminds you that you are perfect the way you are and that there are no boundaries to your possibilities.
So be fearless, be bold, and most importantly be you.
Love,
Amber Helena
wearing lash style #Italy